3:45pm – a significant beach fire is burning at SW 44th St and Beach Ave. North Lincoln Fire is enroute. Requesting Depoe Bay Fire for assistance.
3:47pm – setting up for structure protection. Fire is moving southward and towards the bank.
3:56pm – Requesting Oregon Department of Forestry for assistance but only getting a voicemail. Depoe Bay Fire is onscene along with multiple engines and the UTV. They have setup structure protection and sending a hoseline over the edge for the UTV.
Photo Courtesy of Tyler Wilford on Facebook: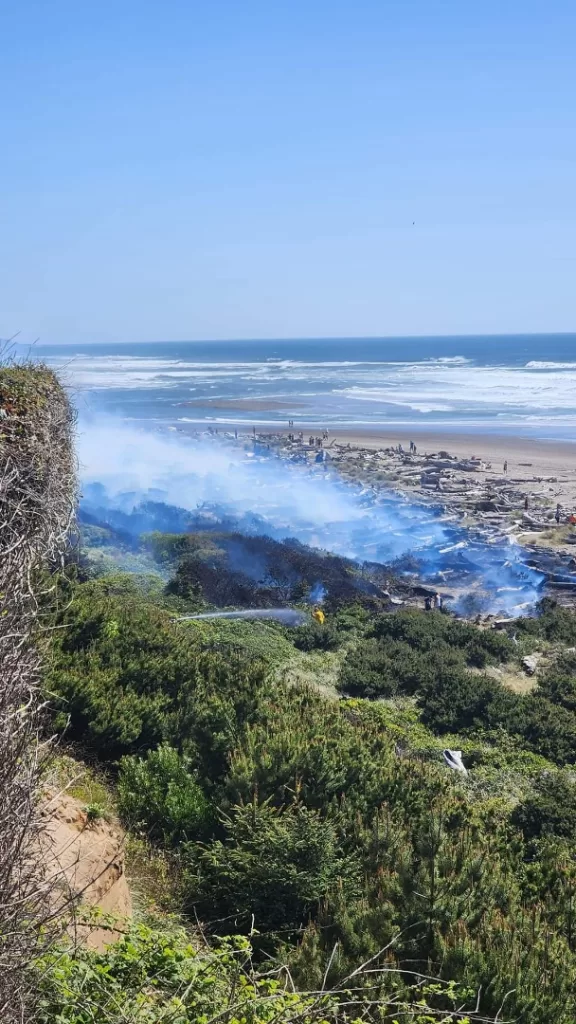 Photo Courtesy of Tyler Wilford on Facebook
3:58pm – ODF was reached out to and they are working on putting an engine crew together. Newport Fire is moving up to assist with Depoe Bay and Nestucca Fire is moving south for North Lincoln Fire coverage.
4:16pm – fire is at about an acre currently.
4:22pm – requesting Newport Fire beach rig. Newport Fire is saying they don't have the personnel but are working on it. ODF is also struggling to assemble an engine crew.
4:25pm – Newport Fire confirmed they don't have the personnel to send an engine or beach rig to assist.
4:30pm – ODF enroute from Toledo with an engine crew. Sounds like they have the structure side of the fire under control and now are working on keep it from running the beach.
4:40pm – 4 juveniles are suspected of starting the fire and are possibly being detained by Lincoln City Police and the State Fire Marshall is enroute to assist with the investigation.
6:00pm – Fire is out and all units have returned to thier stations. 3 juveniles have been cited and released to their parents.
The following images were sent by Kristina Nofsinger – Thank you!